Are you thinking to put your child in Top Sainik Schools in India? Sainik schools are considered as best and well known for discipline and punctuality. All Sainik schools are affiliated to CBSE board, so students are taught in highly educated manner so when they grow up, they become a person having proper personality, amazing communication skills, discipline lifestyle.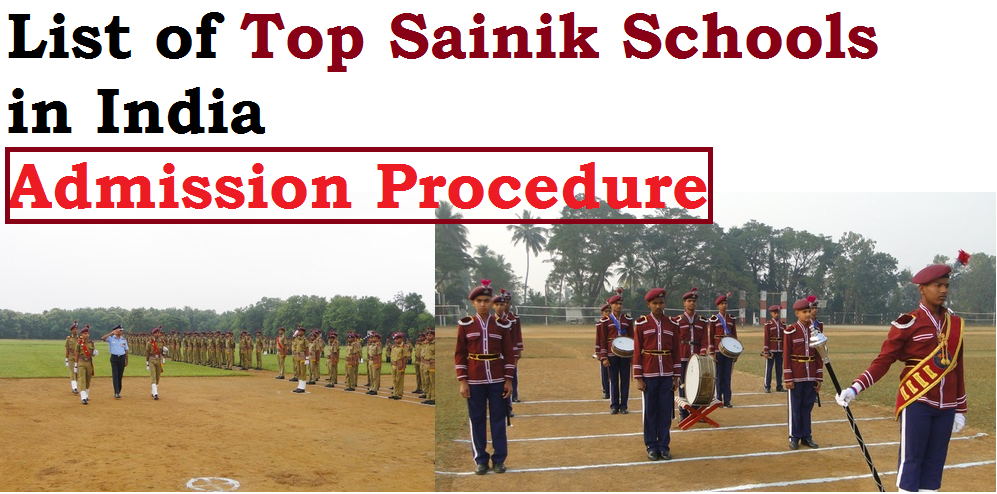 We are going to look at the Top Sainik Schools in India in today's article.
Top 3 Sainik Schools in India
Sainik School, Ghorakhal

Ghorakhal Sainik School is Located in hills of Nanital, school was established in 21st March 1996. Ghorakhal name has been given to that place because once Britishers used to hide there. Their horses died by drinking water from a pond nearby.The mission of this school is to provide best education to the students, to prepare them academically, physically and mentally.




Sainik School, Korukonda

The main aim of Sainik School Korukonda, provides education in such a way that students get prepared academically, mentally and physically so that they get eligible for taking admission in National Defence Academy in Pune. National Defence Academy further prepare them for Military Services.
Rashtriya Indian Military College, Dehradun:

RIMC, Dehradun is a school which educate boys in well manner. The students who scores good marks are sent to Royal Military College, Sandhurst for their bright future.

Searching for exam dates? Prepared well for appearing and cracking exam? Let us see which are the dates announced for Sainik School Entrance Exam. Yes, you need to pass the examination for getting admission in the best Sainik Schools.




Sainik School Entrance Exam Date 2022
If you want to gather some other information related to academics of Sainik School, you can visit Wikipedia official website.
Sainik School Entrance Exam 2022 is conducted for students who are targeting to get admission in Sainik Schools. India has a great community named Sainik School Society who have established these Military schools. Any student can appear in this examination, but they need to score good for getting admission.
The exam date has not been announced yet but registrations are going on. You need to visit the link which I have mentioned above for filling up application form.
Korukonda Sainik School Admission Details
In this we will look at what is Sainik School Admission Eligibility Criteria. Students who want to take admission in class 6th must be of age 10-11 years old, for class 9th they should be of 13-14 years. Korukonda Sainik School also included in the list of Top Sainik Schools in India.
Sainik School of Chittorgarh
Famous Sainik School of Chittorgarh located in Rajasthan state was developed in year 1960 on 7th August. You will find all the details at http://www.sschittorgarh.com/about-us.html




List of All Sainik Schools in India Statewise
Sainik School, Korukonda – Andhra Pradesh
Sainik School, Golpara – Assam
Sainik School, Gopalgunj – Bihar
Sainik School, Ambikapur – Chattisgarh
Sainik School, Balachadi – Gujarat
Sainik School, Kunjpura – Harayana
Sainik School, Nagrota – Jammu and Kashmir
Sainik School, Sujanpur Tira – Himachal
Sainik School, Bijapur – Karnataka
Sainik School, Kazhakootam – Kerela
So listed above are the top Sainik Schools in India as statewise.
Sainik School Fee Structure – State Wise
Fees varies from different school to school ,so we are going to discuss fee structure for each and every sainik school of India.
Chittorgarh Sainik School – GET FEE STRUCTURE
Rewa Sainik School – FEE STRUCTURE
Korukonda Sainik School – Fee Details
Sainik School Amaravathinagar – FEE Details
Sainik School Tilaiya – FEE Structure