On July 17, 2022, Central Board of Secondary Education will organize NEET Examination 2022. At this time, large numbers of aspirants who have submitted their forms are searching for their Exam Syllabus 2022. Registered aspirants can only download Syllabus and prepare for this examination.
NEET is the single entrance test conducted for admissions to approximately 52,305 MBBS and BDS seats in India. We are going to give you proper news of NEET Exam Syllabus and Exam Pattern 2022 from here.
More Medical Entrance Exams :-
JIPMER 2022 Result ,Exam Pattern ,Syllabus
NTRUHS PGMET 2021 Exam Application Form Eligibility Syllabus Exam Pattern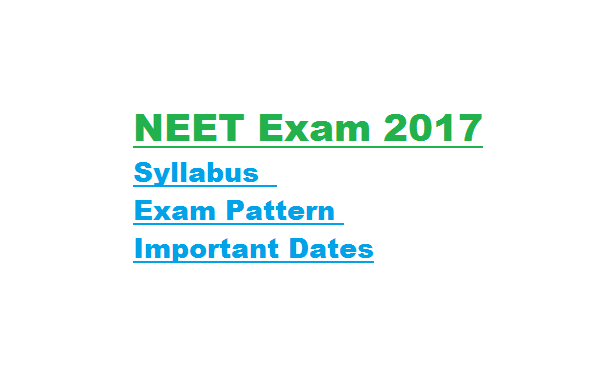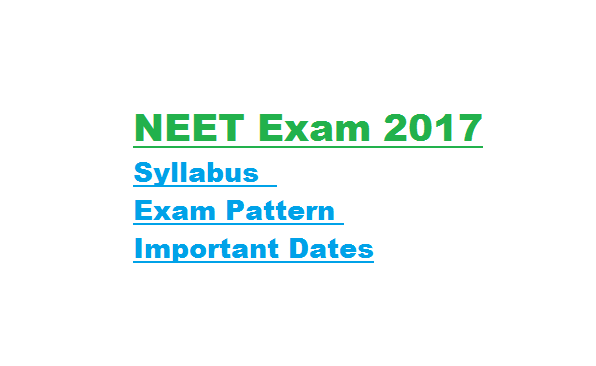 In 2022, NEET has replaced the main entrance Exam called All India Pre Medical Test (AIPMT) as well as all state level medical entrance tests of India. This year, NEET Exam will take place in 104 Exam centers of India.
Students who wish to appear in NEET 2022 can check all the information below such as eligibility, exam pattern, syllabus, important dates, procedure to fill application form and result etc.
Your Exam Results of NEET Exam 2022 will describe your future. Get all time updates of this exam easily from the official website. Check out dates of examination from below and stay updated:
NEET 2022 Exam Important Dates(expected dates)
Starting of Application Forms:

Last date for Submission of Online Application Form:
Date of Exam:

Answer Key: soon

Results of NEET Exam: soon
According to official notification, this exam will be made of all Multiple Choice Questions. Check out proper Syllabus and Exam Pattern for NEET Entrance Exam 2022
In the below table, We have shared proper news of NEET Exam 2022. In fact we have also informed there about the languages of this examination. This exam is going to be Pen and Paper based. We have shared total numbers of questions in this examination.  Scroll down below and get more news of National Eligibility Cum Entrance Test (NEET) Exam 2022. If you have dream to go in the Doctor or Medical line then this webpage was prepared for you.  Here down check & download NEET Exam Syllabus and Exam Pattern 2022 because we have provided for you exam syllabus of NEET 2022.
Check out proper Exam Pattern of NEET Exam 2022 this time easily:
| | |
| --- | --- |
| Name of Subject | Number of Questions |
| Physics | 45 Questions |
| Chemistry | 45 Questions |
| Botany+ Zoology | 90 Questions |
| Mode of Exam | Offline Mode only |
| Date of Exam | 7th May 2021 |
| Type of Questions | Objective Type |
| Numbers of Questions | 180 |
| Languages of this exam | English, Hindi, Assamese, Bengali, Gujarati, Marathi, Tamil,Telugu, Oriya and Kannada |
| Marking Scheme | +4 for each correct response and -1 for each incorrect answer |
This is the great time for all students to know all important updates of this examination. Students need to stay connected to this webpage and gram all latest news. This is the national level entrance test which will be held on the decided time. Download Last Year Exam Papers with complete solutions and get easy preparation tips from there. This exam will contain topics of 12th class exams. Check Cut off Marks of this exam from here:
General Students: 50th percentile
ST/SC/OBC Students: 40th percentile
PH Students: 45th percentile
Download Complete NEET Exam Syllabus 2022
Aspirants may easily download PDF file of official NEET Exam Syllabus through official website. You need to get in touch with us now and bookmark us very soon.  Applicants will get time limit of 3 Hours to complete this exam. Don't get so confused and appear in the official website of NEET Exam 2021.
NEET Subject Wise Syllabus 2022 ( 11th Class )

Class 11th Syllabus of Biology
Diversity in Living World
Structural Organisation in Animals and Plants
Cell Structure and Function
Plant Physiology
Human physiology
Class 11th Syllabus of Physics:
Physical world and measurement
Laws of Motion
Kinematics
Work
Energy and Power
Motion of System of Particles and Rigid Body
Gravitation
Properties of Bulk Matter
Thermodynamics
Behavior of Perfect Gas and Kinetic Theory
Oscillations
Waves
Class 11th Syllabus of Chemistry
Some Basic Concepts of Chemistry
Structure of Atom
Classification of Elements and Periodicity in Properties
Chemical Bonding and Molecular Structure
Gases and Liquids
Thermodynamics
Equilibrium
Redox Reactions
Hydrogen
S-Block Element (Alkali and Alkaline earth metals)
Some p-Block Elements
Organic Chemistry-Some Basic Principles and Techniques
Hydrocarbons
Environmental Chemistry
NEET Exam Subject Wise Syllabus 2021 (12th Class )

Class 12th Syllabus of Biology
Reproduction
Genetics and Evolution
Biology and Human Welfare
Biotechnology and Its Applications
Ecology and Environment
Class 12th Syllabus of Chemistry
Solid State
Solutions
Electrochemistry
Chemical Kinetics
Surface Chemistry
General Principles and Processes of Isolation of Elements
P-Block Elements
d and f Block Elements
Coordination Compounds
Haloalkanes and Haloarenes
Alcohols
Phenols and Ethers
Aldehydes
Ketones and Carboxylic Acids
Organic Compounds Containing Nitrogen
Biomolecules
Polymers
Chemistry in Everyday Life.
Class 12th Syllabus of Physics:
Electrostatics
Current Electricity
Magnetic Effects of Current and Magnetism
Electromagnetic Induction and Alternating Currents
Electromagnetic Waves
Optics
Dual Nature of Matter and Radiation
Atoms and Nuclei
Electronic Devices
On this Page we have mentioned: About NEET 2017 Exam, Full and Downloadable NEET Exam Syllabus and Exam Pattern 2022 as well as NEET 2022 Exam Important Dates.
At last but very important thing that how you score more and good marks in NEET 2022? Simply just by NEET Exam 2022 Sample Papers & Preparation Tips etc. Absolutely, If you have download papers of NEET 2022 then you can score good marks as well as Preparations tips of NEET 2022 as follows
Killer 7 Tips for Scoring Good Marks for NEET 2022
Study at least 5 hours a day for NEET 2022
Give your best while studying.
Don't use Mobile phone or Watch TV while Studying.
Eat healthy food so your health will good while near Exam Days.
Study all topics Physics, Biology as well as Maths on daily basis.
Take help from your friends too.
Make a group study.
So tomorrow that is 7th May 2017 , CBSE is going to organize NEET Exam. More than enough information you already got from above lines but our team experts wants to share few solid points to keep in mind before NEET 7th may Exam. First and very important point for all students is -Reach the exam hall on time .There is no need to explain this first point .Now next point are:
2) Eat a good meal
3) Don't get confused
4) Don't be in a hurry to start
5) Plan your paper strategically
6) Do not fall prey to guesswork
7) Be wary of negative marking
8) Do not get stuck with a question for too long
9) Stay calm and composed
10) Do not scribble on rough sheets
Follow these 10 killer points to keep your mind active.
Those who wanted to get more info they all should need to visit @ cbseneet.nic.in