DG VAISHNAV COLLEGE was formed in year 1964 to provide best quality education of higher level to all the students. The college is located in Chennai, Tamil Nadu. Earlier college starts with 2 courses and now it runs various UG, PG and Ph.D courses in several fields including Arts, Commerce and Science. Students who completed the course are placed in prestigious companies all over the world and earning very well.
About DG Vaishnav College and Admission Process
It's an autonomous body which is affiliated to university of Madras. Every year the college invites eligible students to take admission in any of their course of graduate, post graduate or doctorate level. This year as well the college began the process of admission. For admission purposes candidate must go through with the information regarding the College, qualification, name of courses, fee structure, application process and placement.




Name of the College – D G Vaishnav College, Chennai
Institution Type – Arts, Commerce and Science
Category – Co.Ed
Address – #833, E.V.R. Periyar Highroad, Arumbakkam, Chennai Chennai, Chennai Tamil Nadu600106
Phone Number– 91-44-24756655, 24754349, 24753008
E mail I'd– [email protected]
Official Website – com
Educational Qualification – The candidate must have passed 10+2 examination from any recognized school/board with minimum 50% marks in all subjects including Tamil.




Courses offered by College:-
Aided Courses
Under Graduate Courses
A Economics Course
Com Course
Com Corporate Secretaryship Course
Sc Mathematics Course
Sc Physics Course
Sc Chemistry Course
Sc Plant Biology and Bio Technology Course
Post Graduate Courses
A Social Work Course
A Economics Course
Com Course
Sc Mathematics Course
Sc Chemistry Course
C.A Course
Unaided Courses
Under Graduate Courses
A Economics Course
Com Course
BA Course
B.M Course
Com Hons. Course
Sc Physics Course
Sc Chemistry Course
Sc Biochemistry Course
Sc Computer Science Course
Sc Visual Communication Course
Sc Maths Course
Post graduate Courses
B.A Course
A H.R.M Course
A Business Economics Course
Com Course
Sc Physics Course
Sc Biotechnology Course
Sc Microbiology Course
Sc BIOCHEMISTRY Course
Sc Computer Science Course
C.ACourse
Research Programs
Phil and Ph.D Course
Chemistry Course
Commerce Course
Economics Course
Maths Course
FEE STRUCTURE COURSE WISE
| | |
| --- | --- |
| COURSE NAME | FEES |
| B.Com Course | Rs. 40,500/- |
| B.Com (Hons.) Course | Rs. 40,500/- |
| B.Sc Course | Rs. 46,875/- |
| M.Sc Course | Rs. 63,500/- |
| B.A Course | Rs. 33,000/- |
| M.A Course | Rs. 39,500/- |
| BCA Course | Rs. 54,000/- |
How to apply:
Interested candidates can apply for the course by downloading the application form from the official website of the college before the last date of submission of applications.  Candidates must visit the website of the college that is, dgvaishnavcollege.com to get the application form.




The applicant can downloaded and take print out of the application form (A4 size sheet) (white paper only) from the website i.e. www.dgvaihsnavcollege.edu.in. The candidates then filled the application form with all required details in appropriate spaces provided with all documents that should be submitted at the office along with a demand draft of Rs. 750/-(Rupees Seven Hundred and Fifty only), in favor of "D.G.Vaishnav Evening College", Chennai, either in person or via post/courier at the address given below. Application form must be write in the prescribed format only. Application forms with errors or wrong information will not be accepted by the college in any way.
Contact Information of M.O.P. Vaishnav College, Chennai
Address: O.P. VAISHNAV COLLEGE FOR WOMEN (AUTONOMOUS),20, IV Lane, Nungambakkam High Road, Chennai 600 034, Tamil Nadu, India.
Email:edu.in
Phone No.:(044)2833 0262, (044)2833 0507
PLACEMENTS
Many reputed companies invited at the campus every year to recruit deserving and hard working candidates in various positions. Companies like Deloitte, scope international, sundarram finance, Hyundai glovis, snap deal. Ford, kpmg, E & Y, Sutherland, TCS, many Bank companies etc. came for placements in the college campuses. The Companies offers good package to the students having good abilities like TCS and Sutherland offer a package of Rs. 2,04,000 p.a. and E&Y offers Rs.3,00,000/ to Rs. 4,50,000/- p.a. The package completely depends upon on many factors like degree, rank, achievements, confidence, talents etc.
DG Vaishnav College Placement Cell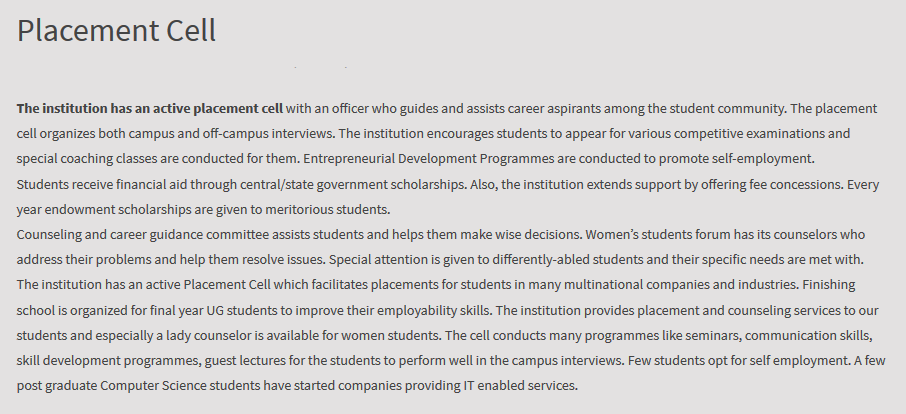 INTERNSHIP:
The college also provides for the internship in various different companies for practical knowledge and experience. They companies provide internship in way that it doesn't affect the academics.
Now you have got each and every main info regarding DG Vaishnav College Admission Process 2021 which includes Application Form details, Fee Structure details and as well as Placement details. Now what are you waiting for? Check online now officially available DG Vaishnav College Admission 2017 by going to official website of DG Vaishnav College.
Related Universities/Colleges :-